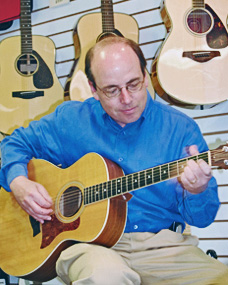 Winston Dutton
General Manager and V.P.
winston@nickrailmusic.com
Although born in Manhattan, Winston has deep California roots. As a matter of fact, way back in the early 1800's, his direct ancestor Joaquin Carrillo, a soldier at the San Diego Presidio, got in trouble with his commander for taking too long to tune his violin. As punishment, he was put in the stockade for the day!
Winston grew up in Malibu and spent his teen years in France. After moving back to California, he graduated Summa Cum Laude with a BA in Music Composition from UCLA. He plays guitar, bass and piano, and enjoys songwriting in his spare time. Winston worked in the commercial real estate and hospitality fields prior to re-connecting with the wonderful world of music in 1998 when he came to work for Nick Rail Music.
You probably wouldn't suspect that I toured the world for a year and a half as lead guitarist for a Spanish circus!